This page is dedicated to
Hunter, one of the greatest kids I have ever had the pleasure to know.
Hunter & Smudge, February 2002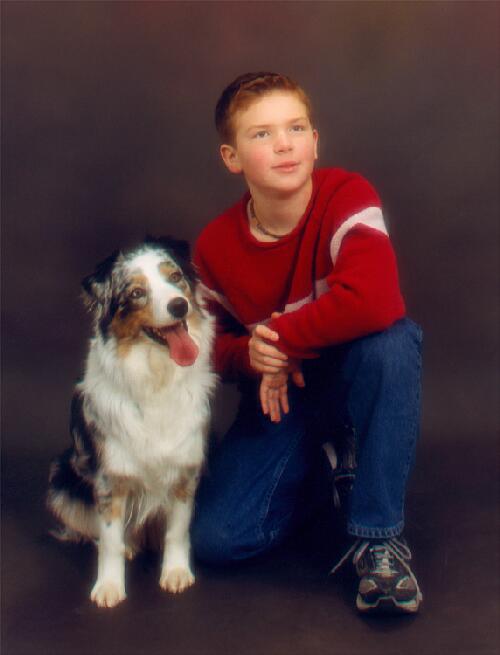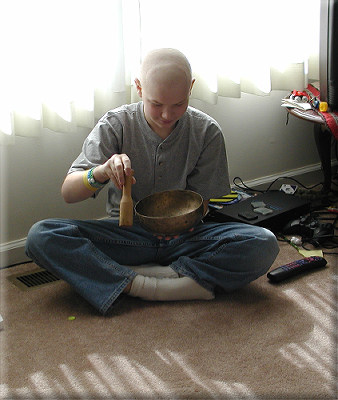 Hunter April, 2002 I just love this photo, he's so beautiful!.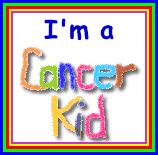 Hunter is an 12 year old boy, whose strength and courage never ceases to amaze me and the community that surrounds me... not to mention the strength I have seen his Mother Betsy proudly display time and time again. A true testimony of faith.

Here's Betsy... isn't she beautiful?
...and she's single too!!!


Hunter was diagnosed with Wilm's Cancer shortly after his 5th birthday.... Hunter fought his first battle with Wilm's and won! (Great Job Hunt!)
As Fate would have it, about 6 months before Hunter's 7th birthday, Hunter's cancer re-appeared, this time with a vengeance. But Hunter fought hard.... And WON! (Way to go Hunter!!)


"You know Mom... real friends love you even if your hair falls out." Hunter- Age 8.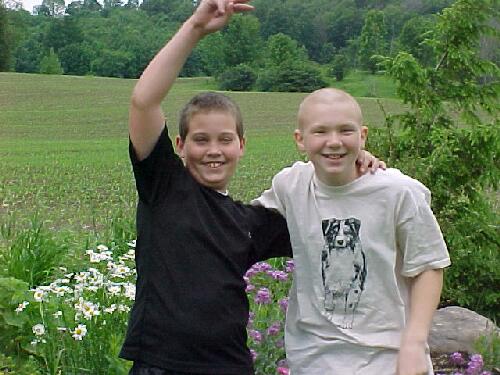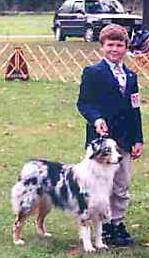 My Lil Buddy Hunter & his dog Smudge, 1998.
Hunter turned 9 on March 19th, 1999. I had never seen him look so healthy. Yet again, his cancer returned. This was a big battle for Hunter, he spent 3 weeks in isolation while receiving a stem cell transplant. What a thrill it was to have Hunter home for the Memorial Day Parade! Even more thrilling was when Hunter made it past the 10 month mark cancer free!! This was a first. We celebrated even more after 14 months of being cancer free! Whoooo Hunter!:)

Our phone rang Wednesday January 10, 2001, it was Hunter. I figured the boy's were making plans to get together. I was wrong. We had a bit of a scare but on 1/26/01, excellent news came in.. Hunter did not have a tumor. It was a growth on his rib that was cartilage. In the scan, it looked as if it was growing off the lung again but it is actually on the top rib pressing against the lung.
Thank you everyone for your prayers! I know prayers had much to do with this outcome. Keep praying.. for we surely are not finished yet as we found out all too soon.
Here we are, cancer free for 32 months, almost 3 years since the last appearance of this enemy, yet again,
the battle begins.

We found out on February 6th, 2002 that Hunters lastest scan shows a mass in his chest wall or plura about 1 1/2" in size....unrelated to his rib, not in his lung ,not scar tissue and not typical in shape. Hunter will have a biopsy on Tuesday February 12, 2002.
2/12/02 The pathology report is in......Hunter has a relapsed Wilms Tumor to the chest wall. They meet on Monday 2/18/02 with Onocologists to hopefully formulate yet another plan.
2/18/02 A long day at the hospital... More scans, lots of blood work....long pow-wow with the Oncologists. Hunter will need at least 12 months or more of intensive chemo.. in-patient chemo 5 days every 21 days. High dose very localized radiation to tumor site. The next decision is which experimental combo of chemos to use. This will depend on results of bloodwork and if scans show any further spread of disease. The tumor is in-operable due to it's invasion of the chest wall. Tomorrow brings a bone scan and meeting with the Radiation Oncologist.. Friday Hunter has surgery to put a new hickman catheter in place. After a couple rounds of chemo, Hunter will have his stem cells harvested again in case a future 2nd transplant is needed.
His poor young body has been thru so much already...this seems so tough to face again.
Hunters spirits are surprisingly high and ready to fight! Keep those prayers coming!!!- Betsy
2/22/02 Hi Folks, We are home from a LONG day at the hospital. Hunter had surgery this a.m. to have his port put back in his chest(a port is a catheter in the chest to directly give chemo thru) . Then he had an MRI this afternoon. Made a visit to his many hospital friends at the in-patient pediatric oncology floor......WAY too many kids with cancer! More new ones everyday!
Chemo begins Monday a.m..We are going to attempt out-patient treatment ( going back and forth for the 5 days) if Hunter can tolerate it. All of Hunters other scans are clear...no evidence of disease other than in the chest...Hurray!!! Will keep you posted.......Love ,Betsy Hunter and Mariah
2/27/02 Hunter has been having daily Chemo since Monday 2/25/02 and seems to be handling it in true "Hunter fashion" like a trooper! Dr.Dubowy did however inform us today that last Friday's MRI has revealed something on his liver.....probably more cancer.The Drs will meet to determine what can be done about this (surgery,radiation or stick to original plan....and pray).
3/13/02 Hunter has completed his first 5 day's Chemo and has been at the hospital every other day for blood counts. He had severe low white cell count and VERY low platlets over this past weekend. He recieves daily injections of Neupagen to stimulate white cells. His white cell count has come back nicely but he needed to recieve a transfusion of platlets on 3/12/02. All in all his first course of treatment has gone very smoothly! The MRI shows no further liver involvement....only the one tumor there and one in chest. After he received platlets ..... he went back into surgery to have a pheresis catheter put into his groin for a stem cell harvest. Hunter will be in the hospital the rest of the week during this harvest, which started today, 3/13/02. Hopefully he'll be out for the weekend to have his BIRTHDAY party! :) Hunter turns 12 on Tues. March 19th! So......with the weekend off to PARTY....5 days of chemo starts again on Monday the 18th....( didn't we just do this???) His spirits are amazingly great! Thanks for your continued support and prayers! Betsy
3/14/02 Well, it looks like we may not make it out for a Saturday birthday party....but we are keeping our fingers crossed....
Hunters stem cell harvest is not going well....It seems his bone marrow is "tired" from so many past years of treatment. After 2 full days of Pheresis , we are nowhere near what they need. They will try again tomorrow. Pray for a" bountiful" harvest! Met today with Hunters teachers and hospital staff teachers to discuss how to deal w/ schooling thru this....all I can say is we are blessed to have such wonder supportive folks at Fabius-Pompey schools. We have been thru so much together over the years and they have never let us down! Thanks so much! Betsy ,Hunter and Mariah
3/17/02 Tyler & I got a chance to go to the hospital and see Hunter Friday night, as usual, Hunter was in great spirits, shinning his light ever so brightly! I'll never forget how happy he was when Ty walked through the door, Hunter said, "I'm the luckiest boy in the world, my best friend is here!" Now that say's it all doesn't it! By the time we left the hosptial Friday, the boy's had planned on getting together Saturday while Hunter was getting his stem cell's harvested. So.. the boy's spent about 12 hours at the hospital together, playing video games and I'm happy to say, they were able to get enough of Hunter's stem cell's harvested Saturday. Today, I took Tyler to Hunters and they all "played" like they were going to the movies... little did Hunter know, on the way to the movie's, they'd stop at Neil's house and walk into a Surprise birthday party for Hunter! I wasn't there to witness it, but I am sure Hunter was awed and very happy to have 27 of his friends all gathered around! Hunter starts chemo again tomorrow. He's such a cool kid! I get pictures of the party if I can.
4/10/02 Hi Folks, Sorry I havent written in a while......We have been running back and forth to the Hospital it seems ,almost daily. Hunter has 3 rounds of Chemo behind him! Each round a bit tougher on his bone marrow than the next....He has needed transfusions and platlets frequently.One trip to the ER for a high fever and has caught one nasty cold..but all in all its going okay.Hunter was due to start another round of chemo this past mon.but it has been postponed due to a low platlet count. Today he had scans and was marked for radiation treatment.Should begin his month long radiation schedule sometime next week. Well....keep those prayers coming! Love, Betsy,Hunter and Mariah
4/29/02 Hunter began radiation on April 22, 2002. He will go 5 days a week for the next month. Hunter also was supposed to be admitted for in-patient chemo the 22nd but his counts were STILL too low. He looks great and as always has a wonderful attitude!
5/17/02 Hi Folks, Today we celebrated Hunter's last radiation treatment! Hard to believe a month has gone by so fast! We also had an unexpected meeting with Hunters oncologists..... Apparently Hunter's tumor grew during his chemotherapy treatments. Therefore the chemotherapy will NOT be continued as planned, as it was pointless. So.....A PET scan is being scheduled for next week. If any new tumors are detected, they also will be radiated then we will proceed directly to a stem cell transplant. If no new tumors are detected, then the Drs. STILL want to proceed with a stem cell transplant as they feel that the chance of microscopic cancer is very high. For those who are unfamiliar with the procedure, a "stem cell transplant" is usually a week long course of lethal dose chemotherapy sufficient to kill the bone marrow, then essentially rescuing the patient with his own stem cells, or "seeds " of the marrow. It requires a grueling hospital stay of 4-8 weeks. Needless to say, Hunter is crushed by this news, as we all are.....keep those prayers coming! Betsy
5/30/02 Hunter had his PET Scan on Tuesday, the results came in yesterday.. I am happy to report, no more new cancer! The radiation took care of the tumor on his liver but he still has the one on his chest wall. The Dr's are going to give it a couple more weeks as the tumor may shrink, or go away... If the tumor is still there, the Dr.'s are going to surgerically remove the tumor. Please pray this tumor just magically disappears. It would be a blessing for sure!
7/15/02 I apologize for the lack of updates, it couldn't be helped. Hunter had the tumor on his chest wall removed at the end of June. The surgery was successful. Hunter went in for a stem cell transplant today, July 15. We expect Hunter to be in isolation for 4-6 weeks. Please keep Hunter in your prayers at this time. I did speak with Betsy shortly today, please keep her in your prayers also.
7/22/02 Hi Everybody. We now have 7 days and 2 hrs. behind us (but who's counting) Hunter has had his 5 days of high dose chemo and one day of rest . He had his stem cell rescue yesterday. Now its the battle against infection, mouth sores, high fevers, bone pain.....We need a fast forward button on life for the next 3 weeks.... Keep praying! Betsy
8/03/02 At last.... Great News!!!! We see a light at the end of this long tunnel! Today Hunter has white cells! Hurray!! This means his bone marrow is beginning to produce on its own again. Hunter was so ill that he could not stand any noise.....no talking, TV or ringing phones. We did have a terrible scare last week when his belly pain went off the charts and a CT scan proved that he had an infection in a loop of bowel.The surgeons were on-call but thankfully were not needed! Hunter is pretty much out of the woods now for serious complications. Although he still cant talk due do severe mouth sores ( part of his tongue is actually sloughed off YUCK) he asked to watch a movie last night! :) When he is released ,hopefully next week, he will go home on IV antibiotics pain control and feeding. Thanks for the prayers! Keep 'em coming!
8/07/02 Hip Hip Hooray!!!!! We are HOME!!!!!! Hunter was sprung today! Home on IV feeding and some other meds.....but HOME! We will go back to hospital on Fri. for bloodwork and maybe platelets. Feels so good to be here! Betsy

01/24/03 Well, it sems that Hunter's battle wasn't over for as long as we all hoped. The latest scans shows that Hunter has tumors on his left lung. Please keep him in your thoughts and prayers.
01/24/03 Dear Friends and Family, Hunter had routine scans this past Tues. Word came from the Dr's today that Hunter's cancer has indeed returned.He has multiple new tumor growth in his left lung. This news has us once again reeling with disbelief and sadness. Grasping for some hope....a phase one study on a new drug called G313-9 has just opened.Hunter may be eligible to participate. Tomorrow we go back to the hospital for heart, liver and kidney function tests to see if Hunter meets the requirements for the study. Please pray for us.Yet a 5th battle begins.......Betsy
01/25/03 Hunter is eligible to participate in this study. Treatment is to begin on Wednesday.
02/20/03 2003 Home Sweet Home! Even if we brought most of the Hospital with us.... Hunter is home on IV antibiotics .Home is good! The gang was all here today...Tyler,Neil and Magi .Movies and a "guys gourmet" feast prepared by Mag.Mariah and I got to sneak out for some girl time while Magi took over nurse duties and male bonding stuff. A huge thanks to Odette for taking over everything on the home front on such short notice ( a 1:30 am phone call !) We are not sure what happens now.It depends on Hunters complete recovery from this nasty infection. Betsy
03/20/03 Hi Folks, I have not had much to report lately. Everything has been on hold here waiting for Hunters blood counts to recover from his last treatments. Today blood counts have come up high enough to begin the search for another treatment. He also had Scans done today which reveal that tumors are again growing. Dr. Dubowy will again begin the search for another available study. Hunter wants to try alternative natural therapy. We are searching for an alternative that sounds promising. Unfortunately these treatments are not covered by insurance. Pray that God sends an answer to our search! We will keep you all updated as much as possible. Betsy
04/02/03 AT LAST! A treatment protocol has opened! Hunter and I will be traveling to National Institute of Health in Maryland next week. Hunter will begin a new Phase1 trial there.Looks like we will be there this time for about 10 days and will have to return every 2 weeks for a couple of days for the duration of the trial. Wish us luck!! Send prayers that this one is THE ONE! Will keep you all updated as we hear more. Betsy
04/04/03 First, Hunter had a wonderful weekend in Syracuse showing his dog Kodak. While they didn't take the points, Hunter was once again able to participate for the love of the sport, and was surrounded by many near and dear to him. Yesterday we learned that Hunter has been accepted into an open study at NIH in Maryland, and they leave next week for the first round of treatment! This study is for a new class of anti-cancer drugs that works by binding with proteins called tubulins in the cancer cells and preventing them from dividing and proliferating. Every crossable body part is crossed at this end! - There are now plans underway for a benefit concert in Ithaca! This will likely be an all-day, all-night affair with Jules & Dami headlining and ten or so bands offering their support. Watch this site for more details, or visit JulesDami.com.
04/09/03 Hunter and family left for Bethesda, MD early on April 7th. A recheck of his status showed no significant tumor growth since his last scans in March, and he started the new treatment today. So far, so good! Thankfully, NIH is splendidly set up to handle families of ill children. The three of them plus their fabulous Grammy are all staying in the Children's Inn where they have pleasant accomodations and other families and support staff to interact with.
04/19/03 Hunter is home! He got home Thursday.. Friday night he was taken to the hospital with a high fever. I'm happy to say Hunter was able to come home again last night. It took them a bit to get the fever down which was why he was kept as long as he was. So glad to have Hunter home!
04/30/03 Hi Friends and Family, We made it to NIH last night. Scans today show that tumors are still growing.....but not so fast as to prevent another round of treatment. We begin another round of Chemo tomorrow. We will bring the drugs home with us. We should be home late tomorrow night. This is not the news we had hoped for.....but we at least remain in the fight. Hunter is trying to keep his chin up, but I can see this is all wearing on him. Pray for his spirit to be strong! Betsy
05/20/03 We have devastating news. Scans show that Hunters tumors are growing rapidly. A large mass has been detected behind his heart. This is most likely the reason behind his increasing chest pain.Hunter has been taken off the study. With no options available at this time, we will head home with a heavy heart.
07/08/03 Please keep Hunter in your prayers...
07/17/03 Hunter is sleeping peacefully, surrounded by his loving family. Please keep all in your prayers.
07/21/03 The Angel's came and took Hunter today. Rest in peace Hunt Man. I'll miss you!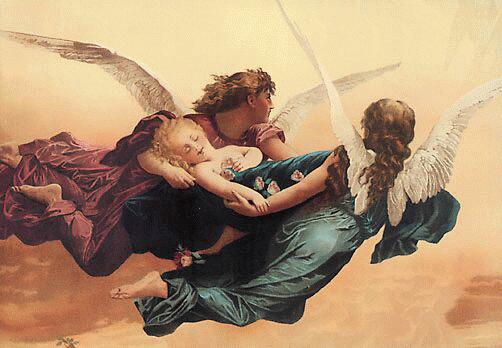 Don't stop praying, but have more trust; Don't stop praying for pray we must.
Faith will banish a mount of care; Don't stop praying! God answers Prayers.

I am thankful and blessed to have been a part of Hunter's Life.. and him, mine. He is the most considerate child I have ever known.. he will be greatly missed. .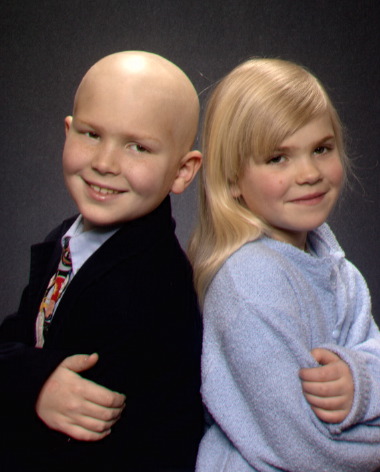 This picture of Hunter and his sister Mariah was taken shortly before Hunter went into isolation in 1999.

It is my hope that this page will bring a smile


to Hunter's face, and to heighten awareness of childhood cancer.




Pictures For Hunter And Mariah



Thank you all for your support! :)



Sign Their Guestbook
View Hunter's Guestbook


Thanks to all you wonderful people, Hunter's guestbook received 250 signatures in less than 3 weeks. To view these messages, follow this link.

And to see his second filled guestbook, click here.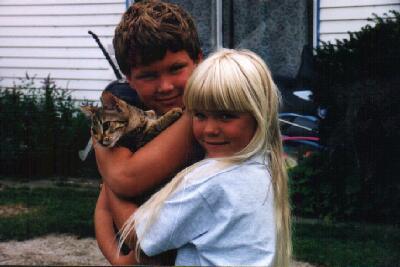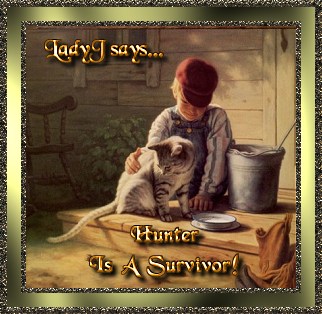 Do you have anything you would like added to Hunter's page?
If so, please E-mail The Webmistress.
All suggestions and contributions are welcomed.